"One Day in Paradise" is the promising title of our new exhibition, which will be open to our visitors across all three floors of the Porsche Experience Center Hockenheimring from 04 September 2021 to 31 August 2022. The exhibition shows our Experience Center in interaction with a handful of strong Porsche enthusiasts, whom we invited to join us in cooperation with SIGHT Magazine. A day in the paradise of all motorsport enthusiasts - pumped full of adrenaline, emotions and team spirit.
Captured by Carlos Fernández Laser's dominated imagery with a play of light and shadow, Southern Californian flair and a unique blend of power and elegance. Those who do not want to miss the exhibition can register by mail at
info@porsche-experiencecenter-hockenheimring.de
, indicating the desired date.
It's simple maths: when you take several things that work well in their own right, then add them together, you get something even greater. The recipe we've been working on here has been inspired by this very idea. Add some of Porsche's most infamous racing cars, a proper racetrack, a great crew of girls and remove any rules. The result will be pure emotion, adrenalin and a day bursting with fun.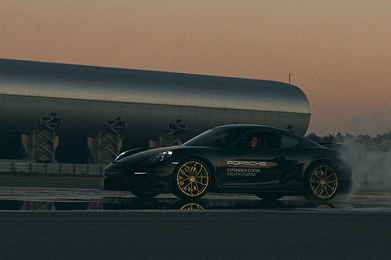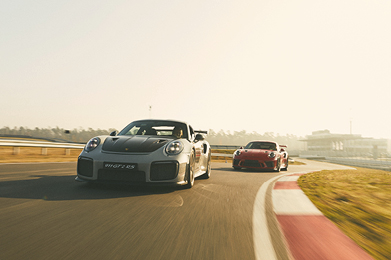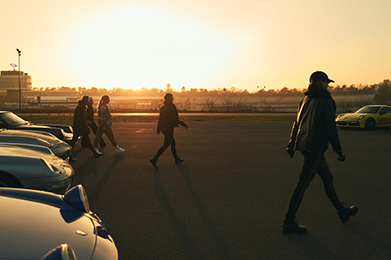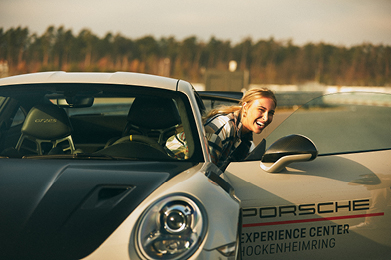 "A day with cars too amazing to put into words and pushing it to the limit, I can feel the adrenalin rush to this day!
- Mimi
"I loved the steep turns, the acceleration and the good vibes. Can we go back?"
- Antje
"That's what sex with Steve McQueen must have felt like!"
- Lisa


"Finally I got the opportunity to drive some cars that do me justice haha."
- Hanna
"Driving there felt like an injection of adrenalin."
- Chiara
We got in touch with five ladies that have caught the Porsche bug at any stage in their lives and invited them to the Porsche Experience Center (PEC) Hockenheimring.
We talked to the nice people at the PEC to supply us with five of their finest sports cars consisting of: A Cayman GT4, a 992 Turbo S, a Taycan Turbo S, a GT3 RS, and the mighty GT2 RS. We put all of this in the middle of the PEC, a playground par excellence, and opened the doors to the track. At this point, our job was getting pretty easy. The girl power and crew vibe simply unleashed itself and the good times started boiling. What started slow and precise quickly melted into a blood rush, garnished by some serious drifting. Making experiences with every single turn, the crew discovered their braveness and went into rage mode, flooring their gas pedals – boxer engines and e-motor joint forces and melted hearts with pur
Photo Credit: Carlos Fernandez Laser